Skunk Odor Neutralizer Duo For Pets
Ajouter un avis
---
Regular price
$25.98
/
Eliminates skunk odors on dogs and cats completely and permanently – doesn't just mask them. pH-neutral products made with naturally sourced ingredients; won't irritate your pet's coat. Leaves a fresh clean scent on coat for several days. Biodegradable. Help your pet smell great the safe way!
Kit includes:
1 x 250 ml bottle of Skunk Odor Neutralizer for Pets
1 x 250 ml bottle of Pet Shampoo & Skunk Odor Neutralizer
Magic Duo Formula.
Vous aimerez aussi
(D-500) Hard, Non-Porous Surfaces Disinfectant & Animal Odor Neutralizer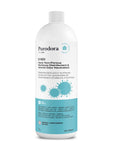 Voir cet article