Take the quiz again
Purodora Lab Pet Shampoos
Dog hair is not like human hair. Nor is dog skin like human skin. The pH of their skin is less acidic than ours. So only pH-neutral shampoos specially formulated for dogs should be used to clean their coat.
We recommend 3 dog shampoos, based on your dog's coat:
These shampoos detangle the coat and rinse off easily to leave it soft and shiny. They also get rid of stubborn smells on the coat to leave your dog looking and smelling great.
All of the above products are safe for dogs. They're vegan and made with natural ingredients. They're also free of silicones, parabens, phthalates and sulfates. All our products are biodegradable within 28 days (OECD 301-D). All our pet care products are also dermatologically tested as non-irritating.
Get Purodora Lab products online or at one of our retailers near you! We recommend calling the store ahead of time to make sure it has the product you're looking for in stock.
To find the retailer nearest you, click here.
Here's to your pet smelling good again!
We work hard to make Purodora Lab odor neutralizers the best on the market. Got a question about our products or innovative odor-neutralizing molecular technology? Ask away! You can reach us at the contact info at the bottom of the page.
Pet Shampoo for Shaggy Coats
See the product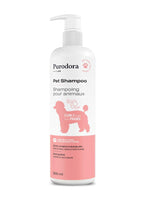 Pet Shampoo for Curly Coats
See the product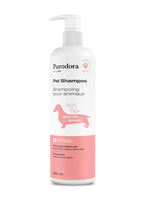 Pet Shampoo for Sensitive Skin
See the product